FIELD FORCE TRACKING AND MONITORING SOFTWARE
Perform tasks related to staff scheduling, monitoring and employee evaluation with our powerful all-in-one software for Field Worker Management.
IMPORTANT FEATURES OF WORKFORCE TRACKING SOFTWARE & MOBILE APP

Work assignment and Task scheduling
Area managers and admins get to view the current status of entire fleet using the web portal where they can create and assign work to employees. The assigned tasks/jobs are scheduled for a particular date and time for which the field workers are notified through the mobile app. Managers can also view the statuses of all the assigned tasks to monitor the progress.

Driving directions with GPS Navigation
GPS Navigation for driving directions is available for the field staff. Using the Field Worker mobile app the exact location of the next planned visit is always on the fingertips which reduces the chances of failure to almost 0%. Optimized route planning also aids in cutting down travel costs and other travel expenses by a significant margin.

Offline data synchronization
The workers, using our field service mobile app, can use the software in offline mode in case of internet connectivity issues. Automatic syncing with web starts as soon as the network connection is restored. The intelligent synchronization feature activates data storage in offline mode so that the information can be easily downloaded in online mode.

Effective Internal Communication
Through the app for field force, it's easy to send and receive messages in two-way communication between the field workers and management. Productivity increases manifold when mobile workers are able to share live updates with their management and get their approval without going through a long series of paperwork.

Geo-fencing for optimized monitoring
Includes defining virtual boundaries for field agent's workspace using GPS-enabled mobile devices. Live tracking of the service agents keeps the management updated on their whereabouts at all times. When the field agent enters or leaves the designated area automatic alerts are triggered and notifications are sent to inform the management.

Employee Attendance Management
Check-in check-out system for attendance tracking takes things up a notch for employee schedule monitoring and evaluation. Work hours are calculated automatically, reducing paperwork hassles to monitor the whole fleet. Increased visibility of the entire workforce lets the back-office staff supervise employees' absence effectively and detect anomalies and trends in real time.

Roles and Permissions according to hierarchy
Access to information and features is controlled through well-defined roles and permissions. These settings can be applied based on the hierarchy of the organization. Just like management or back-office staff can easily monitor the entire workforce as well as their job statuses via the Web portal while a field worker only needs to know the details relevant to his work through the mobile app.

Location history and reporting
The cloud-based field force automation app saves information about the places visited on a particular day which can easily be accessed later on. The ability to track employee movement on the map according to a particular date provides the management with accurate and precise location-based information for optimized tracking.
Employee Tracking with Field Force Mobile & Web app
Our cloud-based web and mobile software for Field Force tracking can be integrated with an existing ERP for providing better control over the workforce.
Area managers and admins get to see the current status of entire fleet using the web portal whereas the mobile app is for the field workers who actually go to perform work at a predefined location.

Want to find out about more details?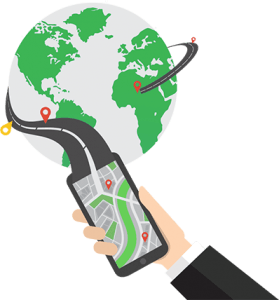 Make your Field Workers More Productive than Ever!
Workforce tracking on web app enables managers to locate employees at any given time

 

Network Connectivity will no longer be a barrier with online Offline Data Synchronization

 

No need for paperwork to manage all the important data

 

Greater transparency of information directly from the field for improved decision making


 

Employees will be able to complete more jobs in half the time with the help of all-in-one solution
Want to know more about our Workforce Management Software?
Contact us for free demo